Refrigerator Repair Columbus, Ohio
Call The Appliance Man and get your refrigerator fixed anywhere in Columbus, Ohio!
We Fix Your Refrigerator!
The Applianceman Service offers experienced, factory-trained technicians specializing refrigerator repair. We work on all major brands including Sub Zero, Scotsman, Faber, Frigidaire, Electrolux, DCS, U-Line, Thermador, LG, Marvel, Fisher & Paykel, Bosch and more. We have provided excellent appliance repair services and first-rate customer service to homeowners in Columbus and Central Ohio. Applianceman has over 30 Years of refrigerator repair experience in Columbus OH!
Over 30+ years of Experience!
Call Applianceman Now: (614) 895-8017 and schedule refrigerator repair service in Columbus, Ohio!
We Service:
Top Freezer Refrigerators
Bottom Freezer Refrigerators
Mini Fridges
French Door Refrigerators
Side by Side Refrigerators
Digital Refrigerators
Undercounter Refrigerators
Counter Depth Refrigerators
4 Door Refrigerators
Refrigerators with Water Filters
Freezerless Refrigerators
Wine Chillers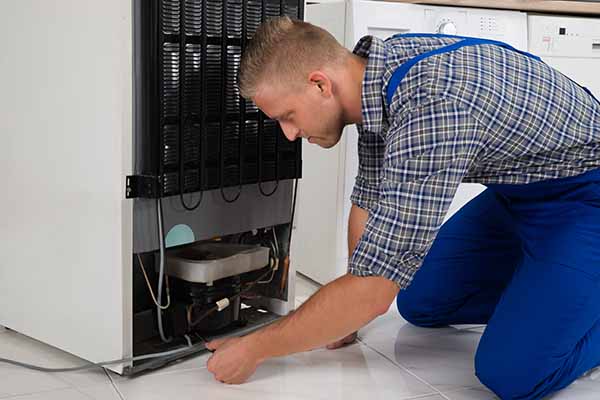 The best factory service refrigerator repair specialist in Columbus, Ohio!
Fun Refrigerator Facts:
Refrigerators for home use was invented in 1913.
Most households use the freezer-on-top-and-refrigerator-on-bottom style, which has been the basic style since the 1940s, Now days Side-by-side Refrigerator and Bottom Freezer Refrigerators are just as common.
Freon is not used anymore and been banned around the world. Instead Freon was replaced by a different coolant which is more Eco-friendly.
Optimum temperature range for perishable food storage is between 37 to 41 °F (3 to 5 °C).
Freezer temperature should be at 0 °F (-18 °C).
There is a Guinness book record for having Fridge Magnets, The record is held by Louise Greenfarb from Nevada currently at 32,000 Magnets.
Older Refrigerators tend to be more reliable than new ones. But if you do decide to replace your fridge make sure you get an Energy Star one they are Eco-Friendly and very efficient on electricity.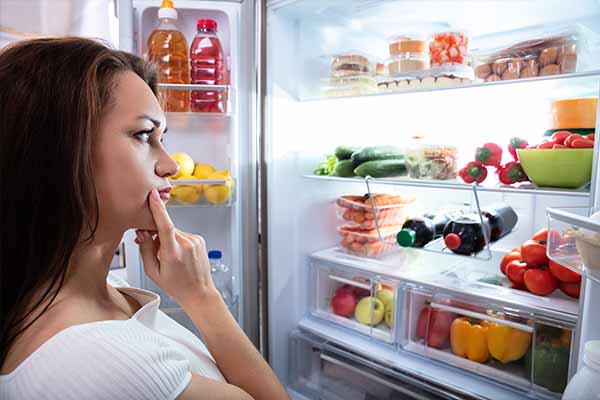 Is your refrigerator at the right temperature? If not, then call The Applianceman and we will fix it!
Columbus Ohio Refrigerator Repair Company
A vapor compression cycle is used in most household refrigerators, refrigerator–freezers and freezers. In this cycle, a circulating refrigerant enters a compressor as low-pressure vapor at or slightly below the temperature of the refrigerator interior. The vapor is compressed and exits the compressor as high-pressure superheated vapor. The superheated vapor travels under pressure through coils or tubes that make up the condenser; the coils or tubes are passively cooled by exposure to air in the room. The condenser cools the vapor, which liquefies. As the refrigerant leaves the condenser, it is still under pressure but is now only slightly above room temperature. This liquid refrigerant is forced through a metering or throttling device, also known as an expansion valve (essentially a pin-hole sized constriction in the tubing) to an area of much lower pressure. The sudden decrease in pressure results in explosive-like flash evaporation of a portion (typically about half) of the liquid. The latent heat absorbed by this flash evaporation is drawn mostly from adjacent still-liquid refrigerant, a phenomenon known as auto-refrigeration. This cold and partially vaporized refrigerant continues through the coils or tubes of the evaporator unit. A fan blows air from the refrigerator or freezer compartment ("box air") across these coils or tubes and the refrigerant completely vaporizes, drawing further latent heat from the box air. This cooled air is returned to the refrigerator or freezer compartment, and so keeps the box air cold. Note that the cool air in the refrigerator or freezer is still warmer than the refrigerant in the evaporator. Refrigerant leaves the evaporator, now fully vaporized and slightly heated, and returns to the compressor inlet to continue the cycle.
Modern domestic refrigerators are extremely reliable because motor and compressor are integrated within a welded container, "sealed unit", with greatly reduced likelihood of leakage or contamination. By comparison, externally-coupled refrigeration compressors, such as those in automobile air conditioning, inevitably leak fluid and lubricant past the shaft seals. This leads to a requirement for periodic recharging and, if ignored, possible compressor failure.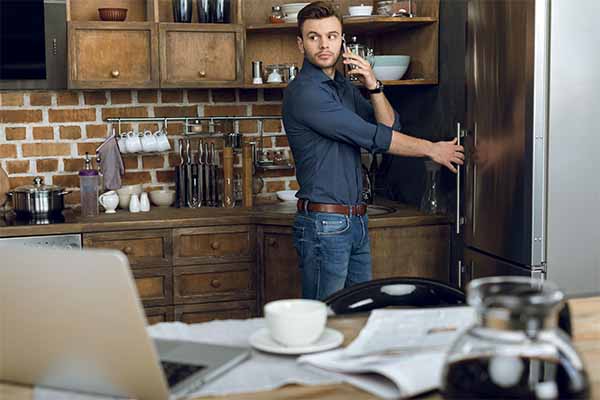 Call The Applianceman if you need refrigerator repair in Columbus, Ohio!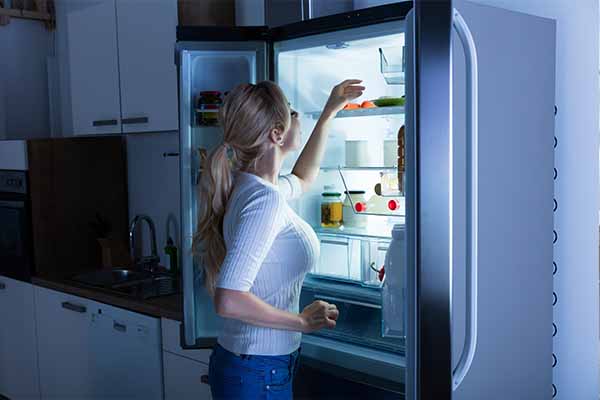 Is there something wrong with your refrigerator? Call The Applianceman for repair service!
Appliance Brands We Service
Applianceman Service is factory certified in the repair of many refrigerators.
Factory Service for These Refrigerator Brands
Refrigerator Repair in Columbus, Ohio
Average rating: 19 reviews
Sep 9, 2021
Prompt and professional appliance repair technicians!
Positive: Professionalism, Value. Over the years I've come to rely on Applianceman Service for both repairs and parts for my frequent DIY endeavors. Their repair service is prompt, professional and fairly priced. Their parts come with free advice to ensure you get it right the first time.
Sep 9, 2021
Always the best appliance and refrigerator repair in Columbus!
Positive: Professionalism, Punctuality, Quality, Responsiveness. I have used Applianceman Service for several years and each time--they provide consistent and excellent service. Customer service is ALWAYS positive and they follow up right away. Their technicians are well-trained and knowledgeable as well as polite and pleasant. Mike--who is the manager is always committed to make sure I am kept in the loop if there are any issues that need attention. All in all--I HIGHLY recommend this company for any of your appliances.
Sep 9, 2021
Best Refrigerator repair service in Columbus, Ohio!
Great Service 👍 Call them! Unlike Sears 800# they actually ANSWER the phone when I called! I had an issue with a Kenmore dishwasher they came out and fixed it did an excellent job! I will definitely be using them again!
Sep 9, 2021
Exceptional service! Great for all home owners!
Positive: Professionalism, Punctuality, Quality, Responsiveness. As a builder I understand it's very hard to find good quality work AND good customer service skills.... I've worked with the service tech DOUG twice now and he has both of those things. I go and supervise while he works on various things for my homeowners- he's been enjoyable to speak with and highly knowledgeable both times. He is very polite to my homeowners and relates to them so much so that I've had 2 comments about how nice he was. I will not be using any other company any time soon. Highly recommend!
Feb 10, 2020
Thank you for the Columbus Ohio refrigerator repair!
I want to thank Applianceman for doing such a great job on my refrigerator. They took their time to make sure the job was done correctly. He was even nice enough to take off his shoes before entering in my home. No technician has ever done that, and that means a lot to me. Thank you for being so respectful
Cindy Lininger via Google
Nov 10, 2019
A Google Review for Appliance Repair in Columbus, OH
Excellent service! My technician was professional and very knowledgeable.
Sep 10, 2019
A Google review of Applianceman Service.
Great experience! During the initial call they asked about the specific problem we were having to make sure they would have the most likely needed repair parts. We got a call the day before to confirm the appointment and actually called the morning of to offer a visit BEFORE the scheduled window. Once at our house, our tech, Karl was super friendly and efficient. He diagnosed and demonstrated the problem in a few minutes and made the necessary repair in less than an hour. Would definitely use again and recommend.
Jul 11, 2019
Best refrigerator repair company in Columbus Ohio!
Had a fantastic experience with Joe who was able to advise me on my refrigerator problem. He was extremely professional and courteous and made sure all my questions were answered by the end of our call. Thanks Joe!
Jul 10, 2019
Dishwasher repair in Columbus Ohio review
Love this company! Fantastic service, honest and only sell you what you need. Trust them and tightly recommend.
Kathleen Coughlin via Google
Jul 2, 2019
A customer review of Applianceman's Columbus Ohio dishwasher repair
We use Applianceman for all our appliance repairs. Michael is our regular guy who is very knowledgeable, honest and always shows up on time. I would highly recommend this company if you need any appliance repairs.
May 21, 2019
Thank you Applianceman for the awesome refrigerator repair service!
I had a very positive experience with ApplianceMan. I was scheduled promptly after making an inquiry. My technician was, Houston. He was on time, polite and professional. He explained what he was doing and the conclusion he came to. He had to order to parts to fix my stove. I will update this review once they come back out with the parts to fix the issue.
May 21, 2019
Columbus Ohio refrigerator repair
Had excellent service by John G. While the fix for my washing machine was cost prohibitive, John gave me a ton of helpful information. John was prompt, very friendly, extremely knowledgeable and thoughtful of my needs. I will definitely use them again in the future.
May 21, 2019
Best Columbus Ohio refrigerator repair!
Applianceman just came out to service my walk oven and he did an OUTSTANDING job! He was very professional and very friendly and knowledgeable. Thank you so much for providing such great service. I will be recommending you to all my friends.
Mar 10, 2019
Gave helpful information
Gave helpful information
Andrea Applegate via Google
Dec 10, 2018
Friendly and prompt
Friendly and prompt. And fixed my plumbing issue the first time. Everything I want in a service provider!
Kevin E Murphy via Google
Dec 10, 2018
Fixed expensive range
They fixed an expensive range that my daughter bought even though it was 18 years old, during the initial service call for a great price!
Carla Cantrell via Google
Dec 10, 2018
Prompt and professional
I would recommend Applianceman for any repairs. They are prompt and professional.

Michael Schuler via Google
Dec 10, 2018
Very quick and helpful dishwasher repair in Blacklick Ohio. Thanks Applianceman!
The technician was very quick, informative and even went out of his way to fix a drainage issue that was not part of the service call and give me some helpful pointers to maximize the cleaning power of my dishwasher. I would definitely use The Appliance Man again!
Stephanie Pearce via Google
Aug 1, 2018
Columbus Ohio dishwasher repair review
Great service. I don't usually leave reviews but had a really good experience with this company so wanted to take the time. Technician was Nick and he was on time, knowledgeable and efficient. Highly recommend.