Microwave Repair
The Applianceman Service offers the best in microwave oven repair in Columbus, Ohio!
The Applianceman: Expert Microwave Repair Service!
Call The Applianceman Service for Microwave oven repair in Columbus, Ohio! A microwave oven (commonly referred to as a microwave) is an electric oven that heats and cooks food by exposing it to electromagnetic radiation in the microwave frequency range. This induces polar molecules in the food to rotate and produce thermal energy in a process known as dielectric heating. Microwave ovens heat foods quickly and efficiently because excitation is fairly uniform in the outer 25–38 mm (1–1.5 inches) of a homogeneous, high water content food item. A microwave needs to be repaired and maintained by highly-skilled, experienced technicians. The Applianceman Service will alway prioritize our customer's microwave repair in Columbus, OH! Just give us a call and we will fix your microwave!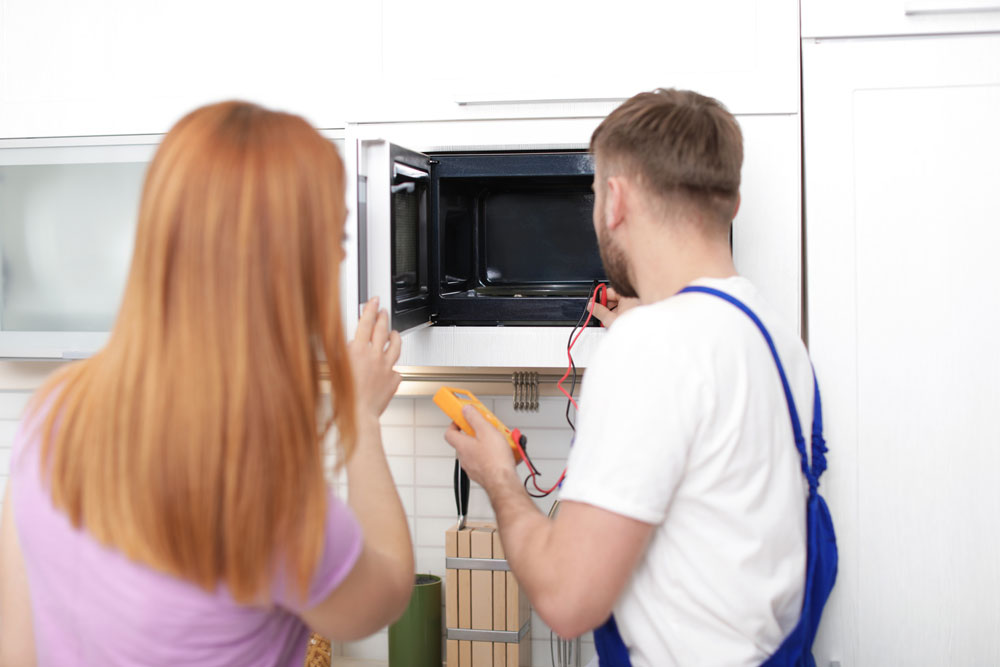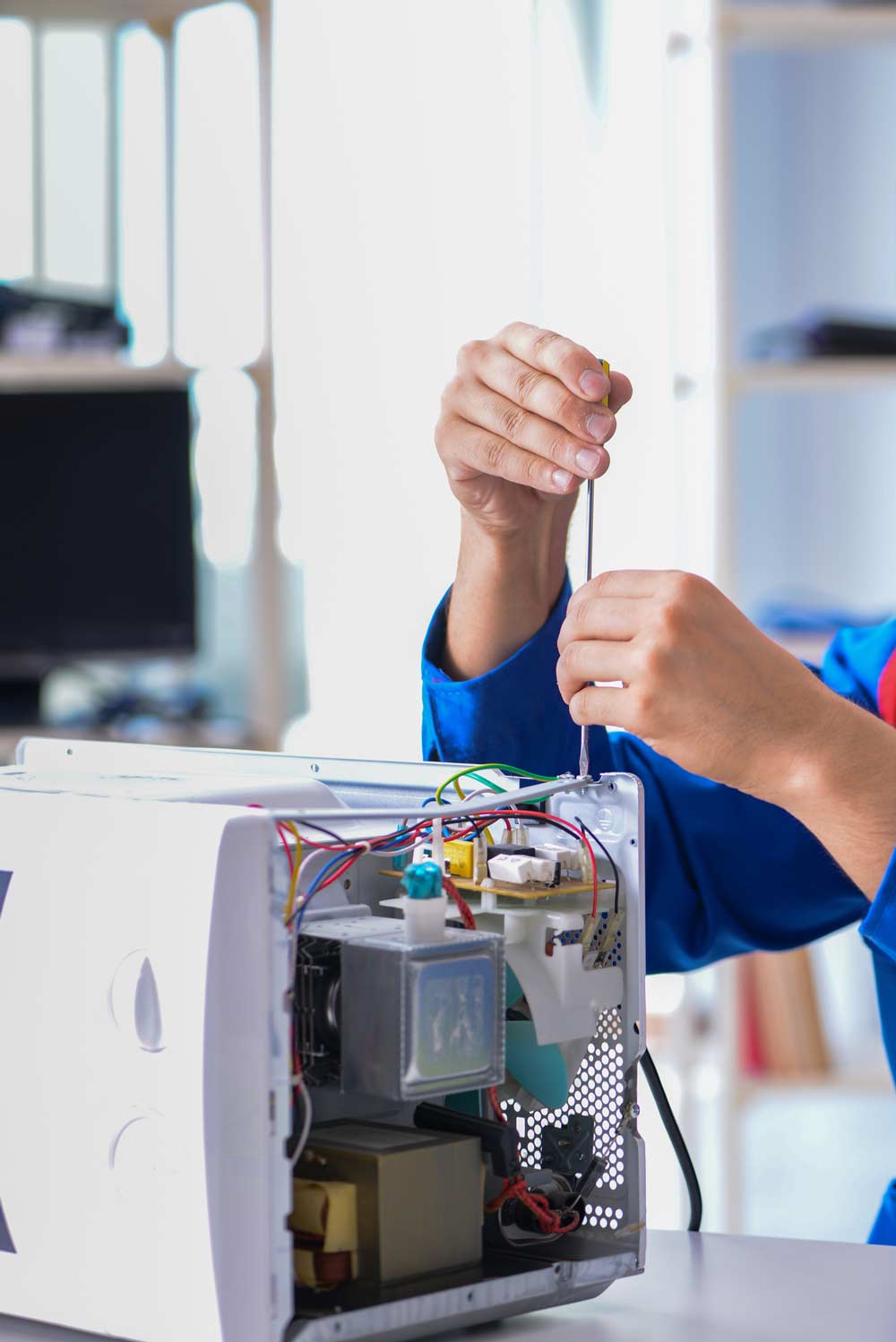 Keeping your microwave operational all year round is what we do!
Our staff complement is made up of highly skilled, experienced microwave technicians, who will attend to your callout in a professional, efficient manner. We specialize in kitchen and laundry appliance repair. We also offer labor and parts on all makes and models. The Applianceman Service is highly rated on Angie's List and a long time member of the BBB. We have built a superb reputation throughout Columbus, Ohio based on our ability to handle any repair on exclusive, high-end appli
Customer Testimonials
We have serviced many microwaves for customers within all areas of Columbus, Ohio.
The Applianceman Service
Average rating: 10 reviews
Jul 10, 2023
Hands down the best microwave repair service in Columbus!
Great experience! During the initial call they asked about the specific problem we were having to make sure they would have the most likely needed repair parts. We got a call the day before to confirm the appointment and actually called the morning of to offer a visit BEFORE the scheduled window. Once at our house, our tech, Karl was super friendly and efficient. He diagnosed and demonstrated the problem in a few minutes and made the necessary repair in less than an hour. Would definitely use again and recommend.
Jul 10, 2023
Keep your microwave working with 5 star service!
Andrew came out to visit us twice; one for an inspection to evaluate the problem and the other to install the custom pieces we had ordered. Our wolf over needed repair and he was the man for the job! He worked with our kitchen in the midst of renovation, found ways around problems with a great attitude and was very respectful! He was transparent with all the cost and what cost was necessary vs. desired. I would definitely recommend Andrew and Applianceman Service!
Jul 10, 2023
Best freezer microwave repair service in Columbus, Ohio! A+++
Positive: Punctuality, Quality, Responsiveness, Value. A Big Shout-Out to The Appliance, great company, they have been looking after my fridge freezer for years. A freezer failed recently, of course this was a Friday afternoon with the prospect of the contents thawing. A helpful call and they were there with a hard to get part. Prompt, efficient, courteous and a fair price. I could not ask for more. 5 Stars.
Jul 10, 2023
Five star microwave repair recommendation! Best in Columbus!
Today I had Carl visit to install a water tank reservoir and evaporation tube in my GE fridge. Carl was professional, extremely knowledgeable and provided excellent service in explaining everything he was doing. After the repair was complete, the fridge kept throwing an error code indicating possible surge but Carl stuck with it and stayed until everything was working. I appreciate the level of care with this service and will be recommending and retaining Applianceman going forward. I couldn't be happier, thank you!
Jul 10, 2023
Professional and high quality microwave repair service technicians!
Positive: Professionalism, Punctuality, Quality, Responsiveness, Value. After reading the reviews, both positive and negative, I called and Mike the owner answered and we set the appointment. Very curteous and professional. Paul came out to do the repair and was friendly, professional and informative and humorous. Our 4 year old dryer needed a new mother board. He ordered it and even called his office to make sure it was ordered today since it was past 3pm deadline to order since we have 2 grand kids living with us and loads of laundry to do. This was Wed and Friday as he promised he came out and fixed it. Worth every dollar I paid. I will use them again!! Next time I will not buy a Whirlpool washer and dryer I will spend a little more for a Speed Queen set!!
Jul 10, 2023
High value and highly recommended microwave repair services!
Positive: Professionalism, Quality, Value. Nick is an awesome service tech. Very knowledgeable and gave great advice. Has been to my home twice in past year for 4 appliances and has been a pleasure to work with. An asset to your company for sure.
Jul 10, 2023
Best microwave repair service in Columbus, Ohio!
Great Service 👍 Call them! Unlike Sears 800# they actually ANSWER the phone when I called! I had an issue with a Kenmore dishwasher they came out and fixed it did an excellent job! I will definitely be using them again!
Jul 10, 2023
Prompt and professional microwave repair technicians!
Positive: Professionalism, Value. Over the years I've come to rely on Applianceman Service for both repairs and parts for my frequent DIY endeavors. Their repair service is prompt, professional and fairly priced. Their parts come with free advice to ensure you get it right the first time.
Jul 10, 2023
Always the best microwave repair in Columbus!
Positive: Professionalism, Punctuality, Quality, Responsiveness. I have used Applianceman Service for several years and each time--they provide consistent and excellent service. Customer service is ALWAYS positive and they follow up right away. Their technicians are well-trained and knowledgeable as well as polite and pleasant. Mike--who is the manager is always committed to make sure I am kept in the loop if there are any issues that need attention. All in all--I HIGHLY recommend this company for any of your appliances.
Jul 10, 2023
Exceptional microwave repair service! Great for all home owners!
Positive: Professionalism, Punctuality, Quality, Responsiveness. As a builder I understand it's very hard to find good quality work AND good customer service skills.... I've worked with the service tech DOUG twice now and he has both of those things. I go and supervise while he works on various things for my homeowners- he's been enjoyable to speak with and highly knowledgeable both times. He is very polite to my homeowners and relates to them so much so that I've had 2 comments about how nice he was. I will not be using any other company any time soon. Highly recommend!