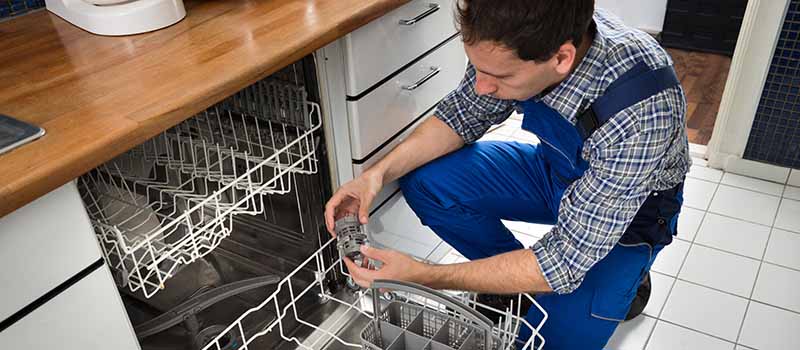 Your Columbus OH Dishwasher Repair Specialist
Call us today and schedule your dishwasher repair appointment: 614-259-8868.
If you have questions, then we have answers! Contact us today!
Why Choose The Applianceman to Fix your Dishwasher?
With over 30 years of appliance and dishwasher repair experience, The Applianceman Service is committed to helping you get your dishwasher fixed for the long run. We are highly trained and skilled and will give you the best diagnosing in order for you to make a well informed decision. We have incredible knowledge of all brands and the parts necessary if yours should fail. Our technicians will check all areas of your dishwasher and we will tell you exactly what's wrong with it and most importantly, fix it!
Common Dishwasher Repair Problems
Noisy and rattling
Leaking caused by worn pipes and inlet valve
It just won't start
The door latch does not lock
The dishwasher is not cleaning properly
The drain pump is not draining
Will not fill with water
Does not dispense detergent
It is not drying the dishes properly
Get The Most Out of Your Dishwasher with These Tips
Filter checkups are is important that the filters are cleaned out after every load.
Rust checks on broken tines (the dish rack feature that holds dishes in place) can leave rust stains on dishes and plates. If the tines are nicked or damaged, then you will need to repair or replace them.
Spray arm safety is necessary to prevent clogging. make sure there is no food build up within the holes of the spray arms. The buildup can block the water distribution during each cycle.
Scrape off food, because large food chunks such as pieces of chicken or bread, should be scrapped off into the trash can or garbage disposal. Don't worry too much about sauces, as the dish washer is designed to wash this off.
Don't overload the dish washer because it will prevent the sprayer arm from distributing the water effectively. You will end up having to run the dish washer again, which wastes electricity.
Do a quick cycle before you turn on the dishwasher. Run hot water for 10 seconds in the sink next to the dishwasher. By doing this, the water heats up in the pipes and shortens the running time of the dishwasher, which uses less energy.
Don't use more dish washer detergent than what the manufacturer recommends, because you will get a better clean by not using more.
Vinegar can erode dishwasher seals and gaskets, so use it sparingly. It is important to wipe down the dish washer regularly whenever there is build up of food debris.
Schedule Your Dishwasher Repair Appointment with Us
The Applianceman Service specializes in dishwasher repair and offers labor and parts on all makes and models. By focusing on major kitchen and laundry appliances, we've developed expertise and unparalleled skill not found in other companies. All of our factory-trained, uniformed employees work in a tidy space and leave your home spotless when the repair is finished. We offer a 90-day guarantee on all parts and labor. If you have a dishwasher repair problem that you can't fix it yourself, then call The Applianceman and we will fix it for you!
Dishwasher Repair in Columbus Ohio
Average rating:
16 reviews
Feb 10, 2020
A Google review of Applianceman Service.
Great experience! During the initial call they asked about the specific problem we were having to make sure they would have the most likely needed repair parts. We got a call the day before to confirm the appointment and actually called the morning of to offer a visit BEFORE the scheduled window. Once at our house, our tech, Karl was super friendly and efficient. He diagnosed and demonstrated the problem in a few minutes and made the necessary repair in less than an hour. Would definitely use again and recommend.
Nov 10, 2019
A Google Review for Appliance Repair in Columbus, OH
Excellent service! My technician was professional and very knowledgeable.
Jul 24, 2019
Thanks for the best dishwasher repair in Columbus Ohio
Had a fantastic experience with Joe who was able to advise me on my refrigerator problem. He was extremely professional and courteous and made sure all my questions were answered by the end of our call. Thanks Joe!
Jun 3, 2019
Columbus Ohio dishwasher repair review
Great service. I don't usually leave reviews but had a really good experience with this company so wanted to take the time. Technician was Nick and he was on time, knowledgeable and efficient. Highly recommend.
May 8, 2019
A review of a dishwasher repair service in Columbus Ohio
I want to thank John for doing such a great job on my washing machine. He took his time to make sure the job was done correctly. He was even nice enough to take off his shoes before entering in my home. No technician has ever done that, and that means a lot to me. Thank you for being so respectful💜.
Apr 17, 2019
A Google review of Applianceman's Columbus Ohio dishwasher repair
Had excellent service by John G. While the fix for my washing machine was cost prohibitive, John gave me a ton of helpful information. John was prompt, very friendly, extremely knowledgeable and thoughtful of my needs. I will definitely use them again in the future.
Apr 14, 2019
Columbus Ohio dishwasher repair review by Applianceman
Nick just came out to service my walk oven and he did an OUTSTANDING job! He was very professional and very friendly and knowledgeable. Thank you so much for providing such great service. I will be recommending you to all my friends.
Mar 20, 2019
Dishwasher repair in Columbus Ohio review
Love this company! Fantastic service, honest and only sell you what you need. Trust them and tightly recommend.
Mar 16, 2019
A customer review of Applianceman's Columbus Ohio dishwasher repair
We use Applianceman for all our appliance repairs. Michael is our regular guy who is very knowledgeable, honest and always shows up on time. I would highly recommend this company if you need any appliance repairs.
Mar 10, 2019
Gave helpful information
Gave helpful information