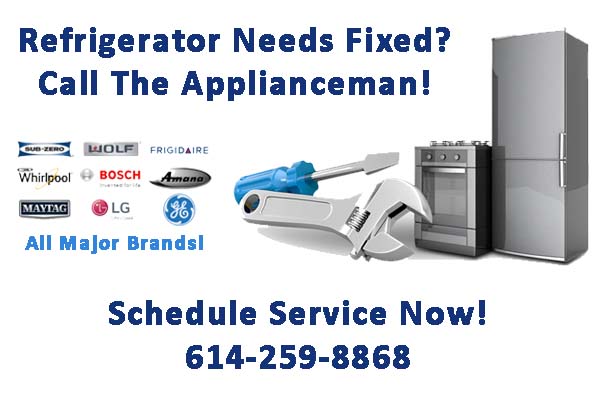 Applianceman is Your Columbus OH Refrigerator Repair Expert
Call to Schedule Refrigerator Repair Service! 614-259-8868
Why Should I Hire Applianceman to Fix My Refrigerator?
Applianceman has Greater Columbus Ohio's "go to" refrigerator repair expert for more than 30 years. We are therefore the best choice in refrigerator repair. Homeowners continue to rely on the unmatchable knowledge and abilities of our highly trained technicians. We've built an outstanding reputation based on our commitment to fixing it right the first time!
Common Problems with Refrigerators that Need Repaired
Your refrigerator is cycling too often
If it is leaking water
There is a problem with ice build up
The refrigerator is making strange noises
The door seal or door gasket is torn
The light bulb inside the refrigerator is out or is not working
The refrigerator is not making ice anymore
There is frost buildup
There is no water in the dispenser
The refrigerator is using too much power
The refrigerator compressor is not working
Helpful Tips to Keep Your Refrigerator Running Longer
If your refrigerator is dead or is not cold enough… Turn the thermostat up to the next highest setting. If it comes on, let it run for 24 hours and check temperature to confirm it is working properly. If the condenser coils are underneath the refrigerator, clean the coils with a vacuum cleaner at least twice a year. Make sure breaker or local GFCI isn't tripped to ensure power (typically by plugging in a device in same outlet to double check).
Do these things to keep your refrigerator running like new:
Clean the coils on the back of the fridge, because they help get rid of heat.
Cover your food, because the moisture from the food makes the compressor work harder to keep it cool.
Keep the door closed so cold air does not escape, so your fridge will use less energy.
Use Smaller fridges if you have a smaller family, because larger refrigerators uses up more unnecessary power.
Keep your fridge at the right temperature: the Department of Energy recommends keeping it at 37 to 40 degrees Fahrenheit, while the freezer should be at 5 degrees Fahrenheit.
Check the seals around the door. If the seals are torn or warped, you could be letting in room temperature into your fridge. Seals should be replaced if the temperature is not maintaining the recommended degrees in Fahrenheit.
Make sure to defrost the freezer regularly, especially if there is more than a quarter inch of frost build up. This can restrict air flow and make it difficult to cool.
Stock the refrigerator well to help it regulate the temperature. If you don't have a lot of food, place pitchers of water inside to help maintain a regular surrounding temperature.
Don't put hot items in the fridge right away, because the compressor will have to work harder to cool the air, which wastes electricity. Wait for your food to cool to room temperature before putting it into the fridge.
Turn off the ice maker when you aren't using it, because it can use up a lot of power. Consider turning it off when the ice box is filled.
Keep your fridge away from a heat source such as ovens and ranges because the external heat source makes your refrigerator work harder to keep cool.
Schedule Your Refrigerator Repair with Us
If your refrigerator has problems that you just can't figure out, then call The Applianceman Service today and we will get you scheduled for an appointment! Call us for a consultation. If you have questions, then we have answers! 614-259-8868. For general non-emergency issues, please contact us via email info@applianceman.net.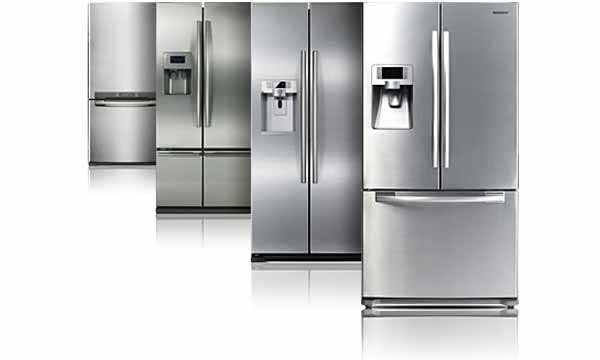 Columbus Ohio Appliance Repair
Average rating:
18 reviews
Jun 15, 2020
Satisfied with the service!
Our LG refrigerator had stopped cooling, and I had done several diagnostics and repairs myself without success before calling Applianceman. They sent Nick out to my home, and were even able to get me in a day earlier. Nick was very professional and knowledgeable and took into consideration the work I had already done, which I appreciated very much. He had a good idea of what was wrong based on what I had already tried, and walked me through testing and confirming the problem.

Given the cost of the repair versus the cost of a new unit, we decided not to repair this one, and he was able to give me advice and tips for our future purchase.

I'm very satisfied with this service!
Jun 15, 2020
Excellent appliance repair service in Columbus, Ohio!
Today I had Carl visit to install a water tank reservoir and evaporation tube in my GE fridge. Carl was professional, extremely knowledgeable and provided excellent service in explaining everything he was doing. After the repair was complete, the fridge kept throwing an error code indicating possible surge but Carl stuck with it and stayed until everything was working. I appreciate the level of care with this service and will be recommending and retaining Applianceman going forward. I couldn't be happier, thank you!
Jun 15, 2020
Great appliance repair company in Columbus, Ohio!
Positive: Punctuality, Quality, Responsiveness, Value
A Big Shout-Out to The Appliance, great company, they have been looking after my fridge freezer for years. A freezer failed recently, of course this was a Friday afternoon with the prospect of the contents thawing. A helpful call and they were there with a hard to get part. Prompt, efficient, courteous and a fair price. I could not ask for more. 5 Stars.
Nov 10, 2019
A Google Review for Appliance Repair in Columbus, OH
Excellent service! My technician was professional and very knowledgeable.
Sep 10, 2019
A Google review of Applianceman Service.
Great experience! During the initial call they asked about the specific problem we were having to make sure they would have the most likely needed repair parts. We got a call the day before to confirm the appointment and actually called the morning of to offer a visit BEFORE the scheduled window. Once at our house, our tech, Karl was super friendly and efficient. He diagnosed and demonstrated the problem in a few minutes and made the necessary repair in less than an hour. Would definitely use again and recommend.
Jul 19, 2019
Dishwasher repair in Columbus Ohio review
Love this company! Fantastic service, honest and only sell you what you need. Trust them and tightly recommend.
Jul 10, 2019
A customer review of Applianceman's Columbus Ohio dishwasher repair
We use Applianceman for all our appliance repairs. Michael is our regular guy who is very knowledgeable, honest and always shows up on time. I would highly recommend this company if you need any appliance repairs.
Jul 10, 2019
Best refrigerator repair company in Columbus Ohio!
Had a fantastic experience with Joe who was able to advise me on my refrigerator problem. He was extremely professional and courteous and made sure all my questions were answered by the end of our call. Thanks Joe!
May 10, 2019
Columbus Ohio refrigerator repair
Had excellent service by John G. While the fix for my washing machine was cost prohibitive, John gave me a ton of helpful information. John was prompt, very friendly, extremely knowledgeable and thoughtful of my needs. I will definitely use them again in the future.
May 10, 2019
Best Columbus Ohio refrigerator repair!
Applianceman just came out to service my walk oven and he did an OUTSTANDING job! He was very professional and very friendly and knowledgeable. Thank you so much for providing such great service. I will be recommending you to all my friends.