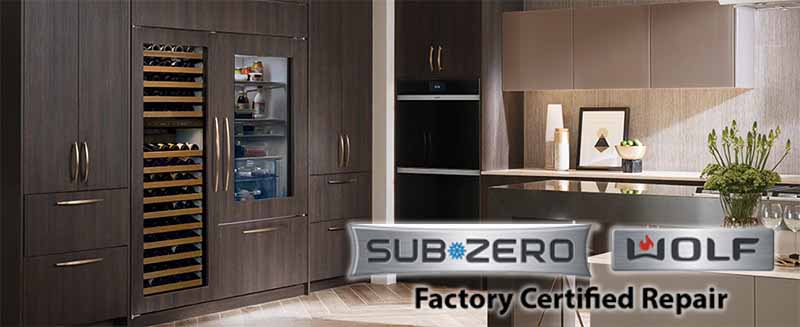 High End Appliance Repair in Bexley Ohio
The Applianceman Service offers experienced, factory-trained technicians specializing in kitchen appliance repair and laundry appliance repair. We have provided excellent appliance repair services and first-rate customer service to homeowners in Bexley Ohio. As a result of our expertise, we The Applianceman specializes in high end appliance repair such as Sub Zero and Wolf brand appliances.
Sub Zero Refrigerator Appliance Repair in Bexley Ohio
Although we can fix any type of appliance, Sub Zero refrigerators and appliances are our specialty. As a matter of fact, we are the only factory certified Sub Zero appliance repair specialist for Bexley Ohio! provides endless options in both the style and technology a refrigeration system. The Applianceman Service will ensure you receive worry-free service and repair for all Sub Zero refrigerator units at competitive rates.
Wolf Range Appliance Repair in Bexley Ohio
Wolf does not take shortcuts with building their products. Likewise, as a factory certified Wolf appliance repair specialist, The Applianceman Service does not take shortcuts with our repairs. Instead, we provide white-glove, precise, and accurate service. Customers will receive the best of the best.
Other Appliances we Fix
Sub Zero
Wolf
Frigidaire
Electrolux
DCS
U-Line
Thermador
LG
Marvel
FiveStar
Fisher & Paykel
Bosch
GE/Hotpoint
Kenmore
Maytag
Whirlpool
Kitchenaid
We Repair All Types of Appliances
The Applianceman provide high end Appliance Repair service in Bexley Ohio
Bexley is a suburban city in Franklin County, Ohio, United States. The population was 13,057 at the 2010 census. Founded as a village over a hundred years ago, the City of Bexley is an old, tree-lined suburb of Columbus, the Ohio state capital, situated on the banks of Alum Creek next to Driving Park and Wolfe Park, just east of the Franklin Park Conservatory. It is horizontally bisected by the National Road (Main Street), serving as a reminder of Bexley's origins as a merger between the prestigious Bullitt Park neighborhood to the north, and the Lutheran college community of Pleasant Ridge to the south. Call us for appliance repair today! We come to you!
Bexley Ohio Appliance Repair
Appliance repair in Bexley Ohio

Average rating:

26 reviews

Nov 5, 2017

Fast response and got our appliances repaired in no time!

The owner got back to us quickly when our refrig went on the fritz. The technician replaced our refrig fan motor and straightened the coils. He was friendly and fast and got our refrig back in working order.

Nov 2, 2017

Very helpful and Fast response from The Applianceman Service

Someone actually answers the phone when you call and are ready to help you! Quick response...out and fixed right away!

Oct 28, 2017

Awesome job repairing my appliances

very fast service and technician was super friendly and helpful.

Oct 19, 2017

Great company for repairing your appliances

Always shows up with a smile and solution!

Oct 7, 2017

Great appliance repair

Hello my name is Dan O'Connor and i left a awesome 5-star review on Google Reviews.

Aug 23, 2017

Great customer service for Appliance repair

Great customer service from Joe-prompt replies & estimates, honest assessments, & very helpful in my decision to repair or replace. Would definitely recommend.

Jul 20, 2017

Amazing job repairing my Appliances


I'm glad I was introduced to these guys. Please read to the end. They were able to quickly get me on the schedule to check out a noise my Faber exhaust fan was making. The day of the appointment I asked if they could also look at my dishwasher - not cleaning like it should. No problem they said - only $48 to give it a look. Much cheaper than any service call, even though they were already there for another call. Normally, I'd like a smaller window than 1-5 but they called me around 2 and gave me an hour advance notice which was very helpful. Andrew arrived and quickly went to work. He was great - friendly, efficient, professional and knowledgeable. We couldn't replicate the noise the fan was making but he did show me how to easily fix another noise that was caused by the vent flap at the exterior of the house (not part of their Faber installation). THE BEST PART was he identified a clogged filter in the dishwasher and fixed it at no charge over the $48. He offered to replace the filter for another $150 but of course recommended we not do that. I've experienced Other companies that wouldn't have handled it that way. THE OTHER BEST PART: there was an unknown black/gray schnauzer type dog roaming around in our yard while Andrew was there. We talked about it when he was leaving. About 5 minutes after Andrew left he came back to tell me the dog RJ had jumped into his truck when he was packing up! RJ had a tag so we called the phone number and realized he belongs to a neighbor way down the street. I showed Andrew where they lived and he drove off with RJ in the passenger seat (wish I had a pic of RJ in that big Appliance Man truck) and pulled into RJ's house to return him home safely. Andrew the Over-Achiever - nice work!

Jul 18, 2017

Great job repairing my appliances

hey im Matt D. Parker and i left a review on Google reviews.

Jul 1, 2017

Great service for appliance repairs

Very polite people, which means a lot in this hurried world.

Jun 17, 2017

Great Service cheaper than others i recommend The applianceman Service for any of your repairs

Great service! Cheaper than others I looked into. They got me in next day! Assessed and fixed the problem quickly. No complaints other than I now had no excuse NOT to do my laundry 🙂